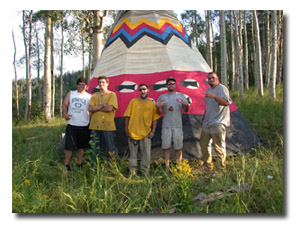 Our Adult program is designed for adults 18 years of age and older. We specialize in helping those with:
Oppositional Behavior
Substance Use or Abuse
Impulsive Behavior
Depression
AD(H)D
Anxiety
Low Self-Esteem
Family Discord
School Failure/Expulsion
Other Self-destructive Behaviors
Each group will be organized with no more than nine participants and a treatment team consisting of a therapist, program manager and field staff. This program is a therapeutic, emotional growth and experiential outdoor program that puts people in touch with their potential!
Mother nature is no respecter of persons, and participants soon learn that avoiding responsibilities can lead to uncomfortable situations. Being in unfamiliar territory in and of itself has some beneficial effects, but Eagle Quest places therapeutic aspects of the program at a premium. Coping with nature causes the student to become receptive to the influences of qualified staff and therapists.
Our treatment focuses on both emotional and behavioral disorders including chemical dependency, depression, impulse control disorders, ADD, and other behavioral disorders.
Eagle Quest helps people realize that they're valuable and lovable with unique attributes. Participants are helped to increase personal responsibility, integrity, self reliance, internal motivation, communication skills and academic skills while improving family relationships and social responsibilities.
Native American Theme
Eagle Quest emphasizes a Native American theme. Each "clan" is named in the Ute Indian language. Participants can earn an "Earth Name" and receive it in an "Earth Naming" Ceremony. Other ceromonies include Heartstick and Medicine Wheel. Ute Indian words and phrases are taught to the participants. Legends and real life stories are also told on a regular basis.
Life Skills
Unique to Eagle Quest is the life skills component. Life skills are behaviors that enable individuals to adapt to and deal effectively with the demands and challenges of life. Skills that will be taught are coping skills for dealing with lifes issues, social skills, money management, independent living and health.
Emotional Growth
Eagle Quest's emotional growth component is a unique program specifically designed to fit our philosophy. Each emotional growth quest is designed to address a specific need of our students. Past, friends, values, independence, decisions, pressures, family and leadership are topics covered by quest.
A workbook has been designed for each quest. As students complete the workbook, their efforts are discussed with the staff and therapists to assist them in improving decision making and emotional attitudes.
Therapy
Upon entering Eagle Quest each person receives a physical exam, evaluation, and an individualized place of service is developed.
Our main objective is to individually maximize personal growth and understanding while developing social awareness and interpersonal relationships. We assist participants and families in improving communications and support as the student participates in an outdoor based therapeutic program.
Feather Quest
Eagle Quest has a "Challenge" component that is optional. Feather Quest will consist of rock climbing, rapelling, three peaks in a week and other challenges and adventures. Feather Quest is by choice!